Hotel / restaurant / B&B for sale in Cartama – Andalusia
Asking price: € 680,000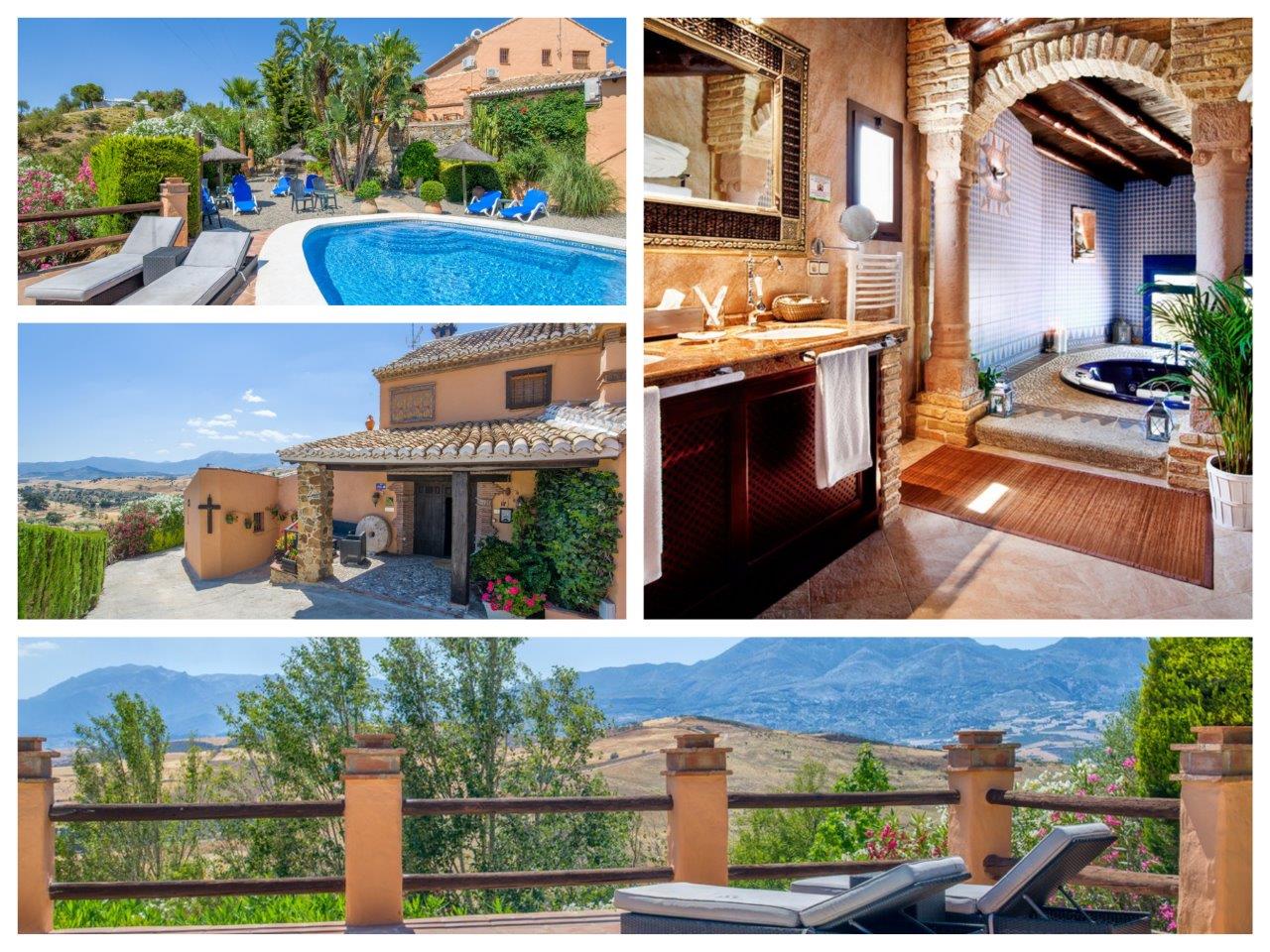 Hotel / restaurant / B&B for sale in Cartama – Andalusia. This beautiful boutique hotel / restaurant with separate owner accommodation is located in a rural part of Cartama, about a 30 minute drive from Malaga and the airport – and 5 minutes from the local town. It's a stunningly beautiful old grain mill which was built in 1852 and has since been fully renovated using original materials such as Arabic tiles, more than 150 year old wooden beams, ancient bricks from churches and monasteries, oak doors and handmade terracotta floors. Although antique materials have been used where possible, the hotel is adapted to current standards for instance with double glazing, acoustic insulation in the walls and thermal insulation in the roof. The restaurant consists of a professional kitchen with a large outdoor terrace which has panoramic views of the Guadalhorce Valley and the Sierra de las Nieves. The hotel offers guests a library, a drinks bar and a comfortable and cosy living room with fireplace. There are 6 rooms which all have internet, private bathrooms, air conditioning and wooden ceilings. Some have a private terrace and a jacuzzi for 2 people and the most luxurious room even has a fireplace and private sauna, double shower and Turkish bath. In the 2,000 m2 gardens you will find fruit trees, a 10 x 6 meter swimming pool with jacuzzi and sun beds – and again stunning views of the valley. There is plenty of parking space on the 5,100 m2 plot and the owners can stay in a separate 70 m2 apartment with a living room, bathroom, 2 bedrooms (one currently used as an office) and a terrace with views. All furniture is included in the price, there's an automatic irrigation system for the garden plus 4 horse stables and surveillance cameras. All licences are in place and the hotel is situated on a plot classified as 'urban'. This means that the land has a higher value and both the transfer and making changes to the hotel will be easier than if the land had been classified as 'rural'. All in all a unique opportunity for anyone who wants to combine an attractive income with living in one of the most beautiful areas of Andalucia. Curious? Fill in the form below for more information or to make an appointment for a viewing.
Click the pictures below to enlarge them
Details of this hotel / restaurant / B&B in Cartama
Location: Cartama – about a 30 minute drive from Malaga and the airport
Property type: rural hotel with 6 rooms , a restaurant and a separate 2 bedroom owner accomodation
Size: 550 m2 hotel, 70 m2 owner accomodation and 5,100 m2 plot
Features: hotel with 6 luxury rooms and shared living room, one room with private sauna and Turkish bath, 10 x 6 meter swimming pool with jacuzzi, separate apartment, restaurant with professional kitchen and open air terrace, 4 horse stables, surveillance cameras, urban plot, all furniture included in the price
Costs: property tax € 737 per year
Status: for sale
Reference number: MP1292
Questions, viewing or another property?
Do you have any questions about this hotel / restaurant in Cartama? Then don´t hesitate to contact us. Fill in the form below and we´ll be glad to answer your questions or arrange a viewing. You can of course also call or e-mail us.
Are you looking for another property? Then use our database of 20,000 properties (fill in your search criteria at the top of this page) or fill in this search form.