Large villa in Alhaurin de la Torre for sale
Reserved – please use the database above to look for alternatives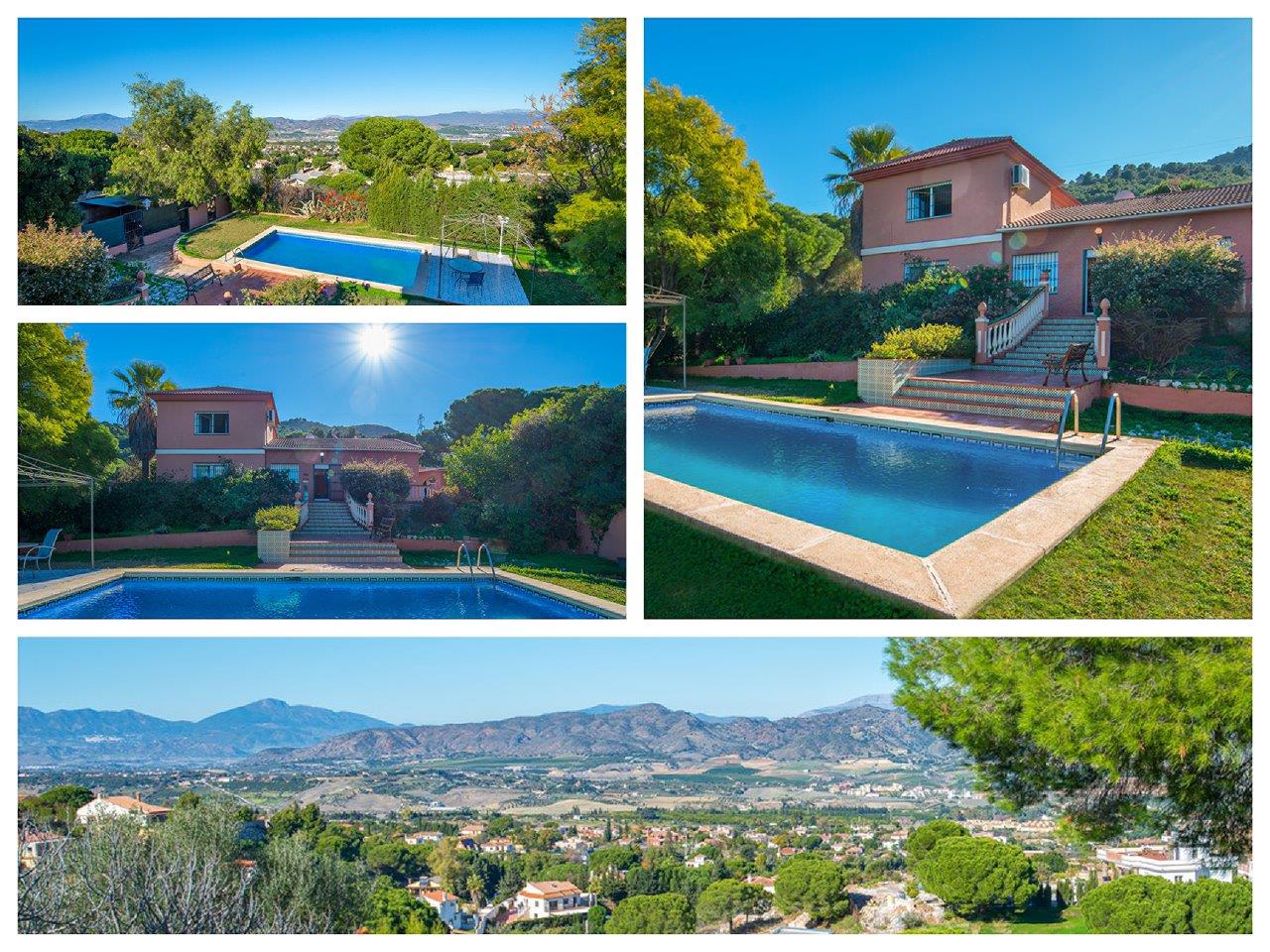 Large villa in Alhaurin de la Torre for sale. This very spacious 5 bedroom villa has tons of possibilities because of its layout and double plot. It can be a large family home, a small B&B or you can even build an additional house next to it, because only one of the two plots have been used for the construction of the villa. Most of the villa is one level. On the main floor you will find 3 bedrooms, 2 bathrooms, a fully fitted kitchen and a spacious 30 m2 living/dining room with access to a large terrace with steps leading down to the garden and 8 x 4 meter swimming pool. Upstairs you will find 2 more bedrooms and 1 bathroom. Because 3 of the bedrooms and 2 bathrooms are situated on the right side of the living room, this part of the house can easily be used separately from the rest of the house. The 2,500 m2 plot is situated on a hill in Pinos de Alhaurin, offering full privacy and stunning views of the valley. Apart from the attractive pool area you will find a large garage, several sheds, a 3 x 3 meter pergola, several terraces and plenty of parking space on the plot. The villa is located a 5 minute drive from the center of Alhaurin de la Torre and just 15 minutes from the beach, Malaga and the airport. The villa has a First Occupancy Licence (Licencia de Primera Ocupación) in place to facilitate the transfer of the property. Curious? Fill in the form below for more information or to make an appointment for a viewing.
Click the pictures below to enlarge them
Details of this villa in Alhaurin de la Torre
Location: Alhaurin de la Torre – urbanization Pinos de Alhaurin (click here for the approximate location on Google Maps)
Property type: detached villa with 5 bedrooms and 3 bathrooms
Size: 270 m2 villa – 50 m2 terraces – 2,500 m2 plot
Year of construction: 1987
Features: air conditioning, central heating (gas), garage, private garden with swimming pool, two plots of 1,250 m2 each, various sheds
Costs: property tax € 450 per year – garbage collection € 720 per year (including water consumption)
Energy certificate: pending
Status: reserved
Reference number: MP1236
Questions, viewing or another property?
Do you have any questions about this villa in Alhaurin de la Torre? Then don´t hesitate to contact us. Fill in the form below and we´ll be glad to answer your questions or arrange a viewing. You can of course also call or e-mail us.
Are you looking for another property? Then use our database of 20,000 properties (fill in your search criteria at the top of this page) or fill in this search form.