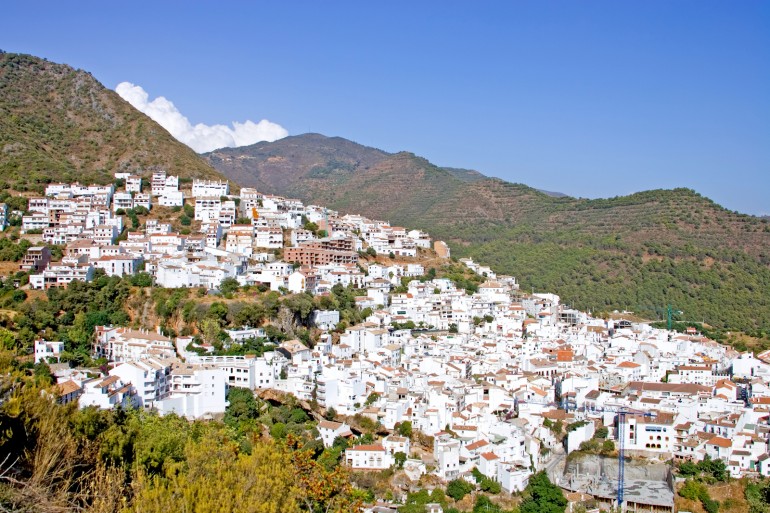 Ojén property and living
Ojén is an old mountain village in southern Spain and situated in the Andalusia region. It is part of the province of Málaga, covers an area of 86 square kilometers and has nearly 3,500 inhabitants. The village is adjacent to Mijas, Marbella and a little further inland towards Monda. It is located very beautifully on a hillside and is easily accessible from the coast (from Marbella).
Ojén climate
Because of its location close to the sea the climate is mild, with an average temperature of 19 degrees and without extreme heat in summer or cold in winter. The rainfall is less than 650 millimeters per year and falls mainly in winter.
About Ojén
The name Ojén comes from the Arabic word 'Hoxán', which means rough and tough. The village is part of the Sierra Blanca and Sierra Alpujata – and both mountains are suppliers of limestone, nickel, iron and lead. Besides the strategic location this is one of the main reasons why Ojén was already loved by the ancient Moors. Nowadays you can enjoy Andalusian nature around Ojén, where you can walk for hours and hike up to 1,000 meters altitude. From there you have a fantastic view of Marbella and a large part of the Costa del Sol. Ojén has its own public swimming pool and has some nice restaurants and bars. The village is also known for its anise liqueur: the Aguardiente the Ojén. It is brewed locally by the distiller Dominique Mertens Impex. And nice to know: the Spanish superstar Julio Iglesias has a home here.
Sights in Ojén
A visit to the distillery of the famous liqueur Dominique Mertens Impex.
Every Saturday a small local market is held. In addition, the large indoor shopping center La Cañada is just a few minutes' drive away.
Walking, hiking and relaxing is possible in the most beautiful settings with beautiful views. For example in the nature reserve Refugio de Juanar.
There are many opportunities in the area to play golf. Both close to the coast and in the Andalusian hills.
You can make beautiful car trips in the mountains or trips to the nearby Costa del Sol.

Property in Ojén
Are you looking for a detached villa, a penthouse, an apartment, a (semi-detached) townhouse or for example an authentic finca or cortijo in or near Ojén? Then search our database of 20,000 properties or contact us for a free property search to find the perfect property for you. We are happy to assist you.
This may also be of interest to you