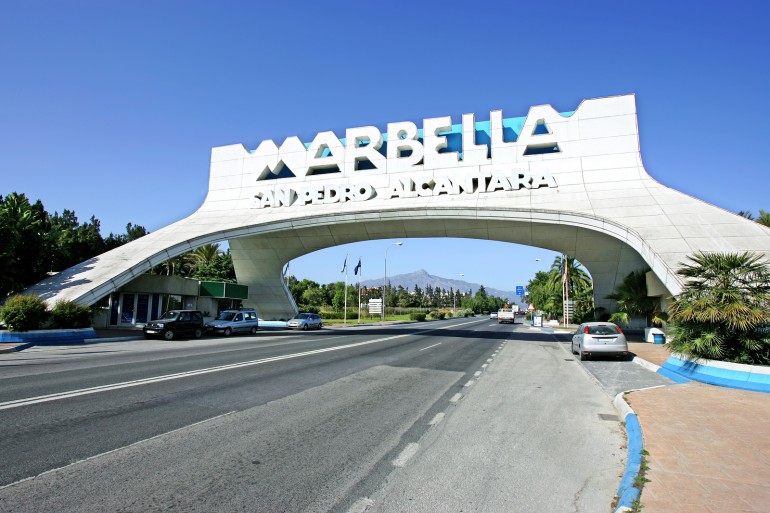 San Pedro Alcántara property and living
San Pedro Alcántara is a beautiful part of Marbella, in southern Spain. It is set against the famous and fashionable Puerto Banús and is a quiet town located on the beautiful coast of the Costa del Sol.
Pan Pedro Alcántara climate
With mild winters and pleasant summers San Pedro Alcántara is one of the nicer places to stay in Andalusia. The annual average daily temperature is 18.8 degrees.

About San Pedro Alcántara
San Pedro Alcántara is a quiet authentic village situated next to the busier Puerto Banús. The village has its origins in the sugar cane industry and has existed for centuries. The centre offers a pretty square with plenty of terraces and restaurants. The Costa del Sol beaches around the town are beautiful and offer plenty of chiringuitos and trendy clubs such as the Bora Bora Beach Club (see photo). San Pedro is a very good alternative for the busier Marbella. The village is growing rapidly in terms of popularity, housing and population. It is even said that San Pedro Alcántara is the wealthiest community in the region.
Sights in San Pedro Alcántara
There is much to do in and around San Pedro Alcántara:
There are many golf courses in and around San Pedro Alcántara.
Visit Marbella with its cosmopolitan Puerto Banús marina.
Book a day trip to Tangier in Morocco.
Book a boat trip to watch dolphins.
The feria (see photo) and the festivals of San Pedro Alcántara are celebrated in October.
Visit the remains of the Roman settlement Siliana, with mosaics, baths and an early Christian basilica from the 4th century.
Visit the Centro Cultural El Ingenio.
See the pretty white church on the lively Plaza de la Iglesia.

Property in San Pedro Alcántara
Are you looking for a detached villa, a penthouse, an apartment, a (semi-detached) townhouse or for example an authentic finca or cortijo in or near San Pedro Alcántara? Then search our database of 20,000 properties or contact us for a free property search to find the perfect property for you. We are happy to assist you.
This may also be of interest to you