Townhouse for sale in Benalmadena (Arroyo de la Miel)
Sold – please use the database above to look for alternatives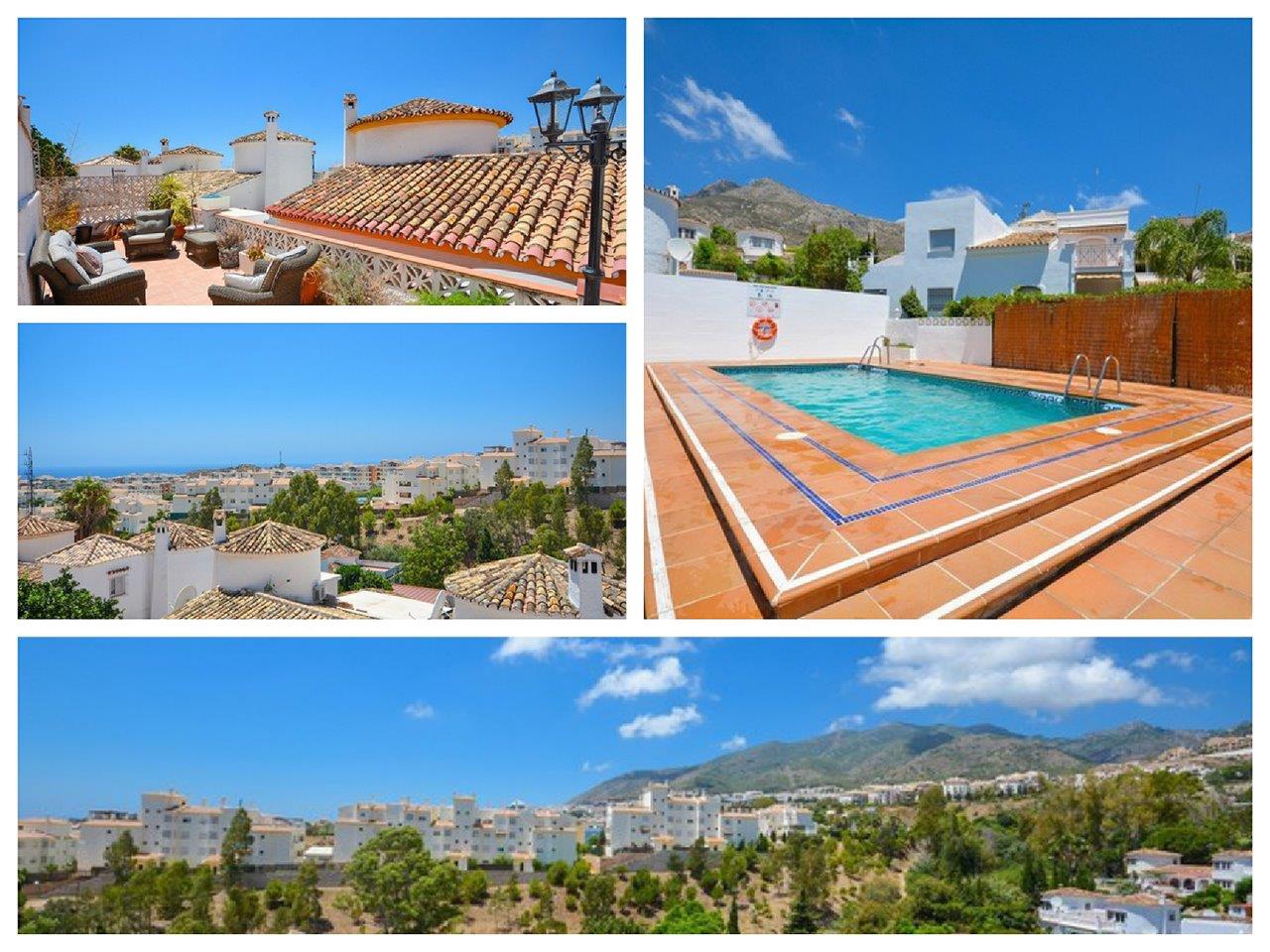 Corner townhouse for sale in Benalmadena (Arroyo de la Miel) – PRICE REDUCED by € 25,000! This corner townhouse is attractive for many reasons. First its location on a very quiet urbanization in typical Spanish architecture – just a 10 minute drive or 8 train stops from the airport. It's just a 5 minute walk to the town center (Arroyo de la Miel) with its many bars, restaurants and shops. And if you continue walking you'll find yourself on the beach within 20 minutes. Prefer to stay at home? Then you can either spend the day at the communal pool or on one of the no less than three private terraces. The inside of this charming house is spacious as well. The living room is appealing because of its round shape and fireplace. All the other rooms are nice and large – from the fully fitted kitchen to the utility room, 3 bedrooms and 2 modern bathrooms (one of which is ensuite). The 2 bedrooms upstairs lead onto the roof terrace which has views of both the sea and the mountains. Enjoy all day sunshine, peace and quiet ánd all the amenities Benalmadena Costa has to offer for just € 199,950 – the average price of an apartment. Plus, all furniture is included in the price! Curious? Fill in the form below for more information or to make an appointment for a viewing.
Click the pictures below to enlarge them
Details of the corner townhouse in Arroyo de la Miel
Location: Benalmadena Costa (Arroyo de la Miel) walking distance to the train station, town centre and the beach
Property type: corner townhouse with 3 bedrooms and 2 bathrooms
Size: 147 m2 (house), 14 m2 (terraces) and 164 m2 (plot)
Status: sold
Features: air conditioning, fireplace, 3 private terraces, communal swimming pool, double glazing, all furniture is included in the price and a Ford Ka is optional

Reference number: MP1088
Questions, viewing or another property?
Do you have any questions about this corner townhouse in Benalmadena – Arroyo de la Miel? Then don´t hesitate to contact us. Fill in the form below and we´ll be glad to answer your questions or arrange a viewing. You can of course also call or e-mail us.
Are you looking for another property? Then use our database of 20,000 properties (fill in your search criteria at the top of this page) or fill in this search form.