Corner townhouse in San Pedro de Alcantara for sale
Sold – please use the database above to look for alternatives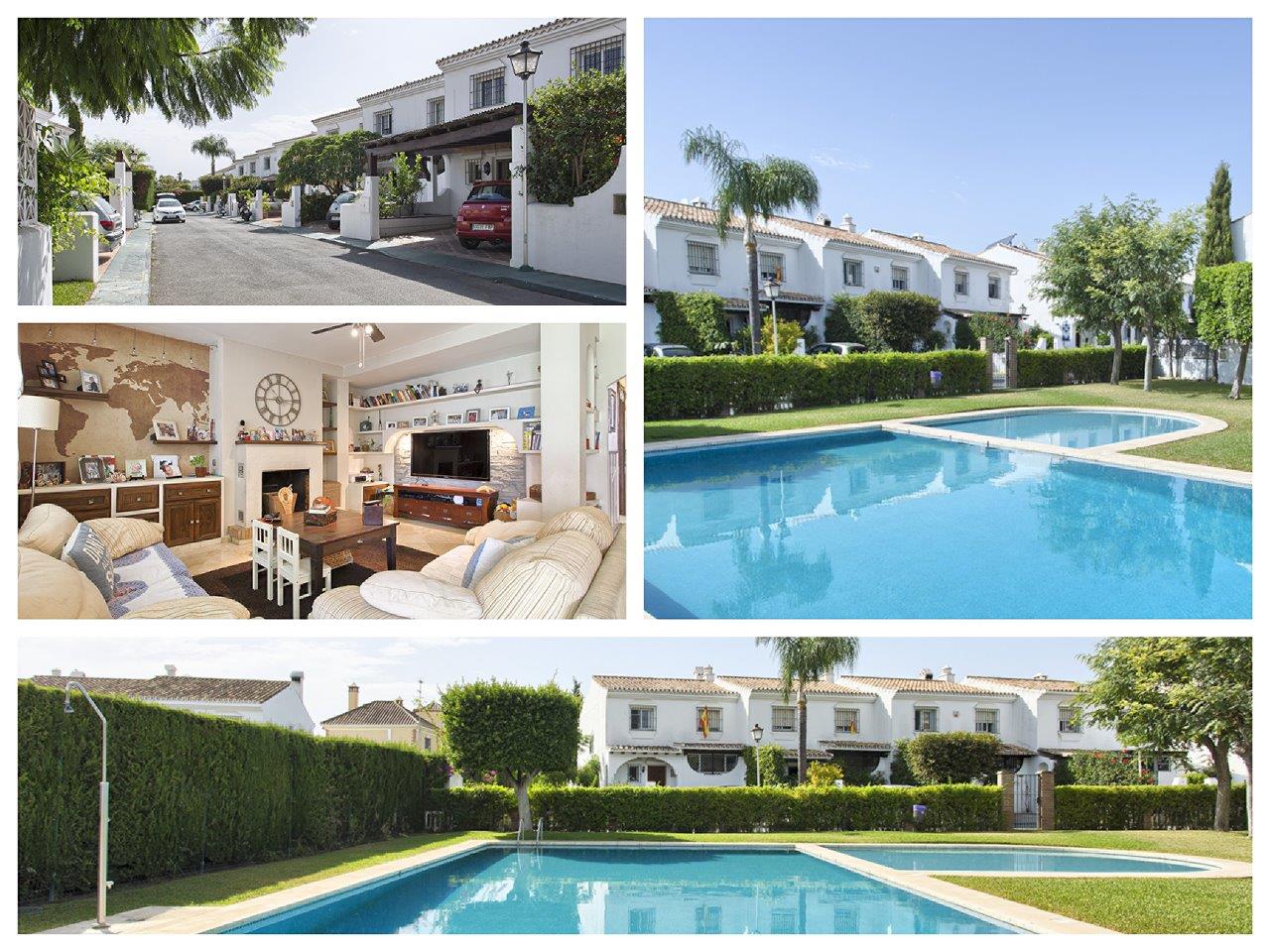 Corner townhouse in San Pedro de Alcantara for sale.This 4 bedroom corner townhouse is located close to the center of San Pedro de Alcántara, just a 5 minute walk to shops, supermarkets, restaurants and the bi-lingual Saint George's school – and less than a 10 minute walk to the beach. It's part of a small and well-maintained gated complex which is only accessible for residents and offers communal gardens and two swimming pools (a large one for adults and a smaller one for children). The townhouse was fully renovated in 2017 and consists of 2 floors. Downstairs you will find a modern and practically new kitchen, a guest toilet and a large living/dining room with fireplace and direct access to the private garden of about 45 m2. Upstairs you will find 4 bedrooms and 2 full bathrooms. You can park in front of the house and hot water is supplied via a solar water heater. Curious? Fill in the form below for more information or to make an appointment for a viewing.
Click the pictures below to enlarge them
Details of this townhouse in San Pedro de Alcantara
Location: San Pedro de Alcantara (click here for the approximate location on Google Maps)
Property type: corner townhouse with 4 bedrooms, 2 bathrooms and 1 guest toilet
Size: 170 m2 (house) – 72 m2 (garden/terraces) – 155 m2 (plot)
Year of construction: 1988 (fully renovated in 2017)
Features: air conditioning, fireplace,  private parking space, hot water via solar water heater, community pool with children's pool, private garden, gated community
Costs: community fees € 160 per month – property tax € 900 per year – garbage collection € 180 per year
Energy certificate: D51
Status: sold
Reference number: MP1208
Questions, viewing or another property?
Do you have any questions about this corner townhouse in San Pedro de Alcantara? Then don´t hesitate to contact us. Fill in the form below and we´ll be glad to answer your questions or arrange a viewing. You can of course also call or e-mail us.
Are you looking for another property? Then use our database of 20,000 properties (fill in your search criteria at the top of this page) or fill in this search form.