Cortijo for sale in Alhaurin el Grande
Sold – please use the database above to look for alternatives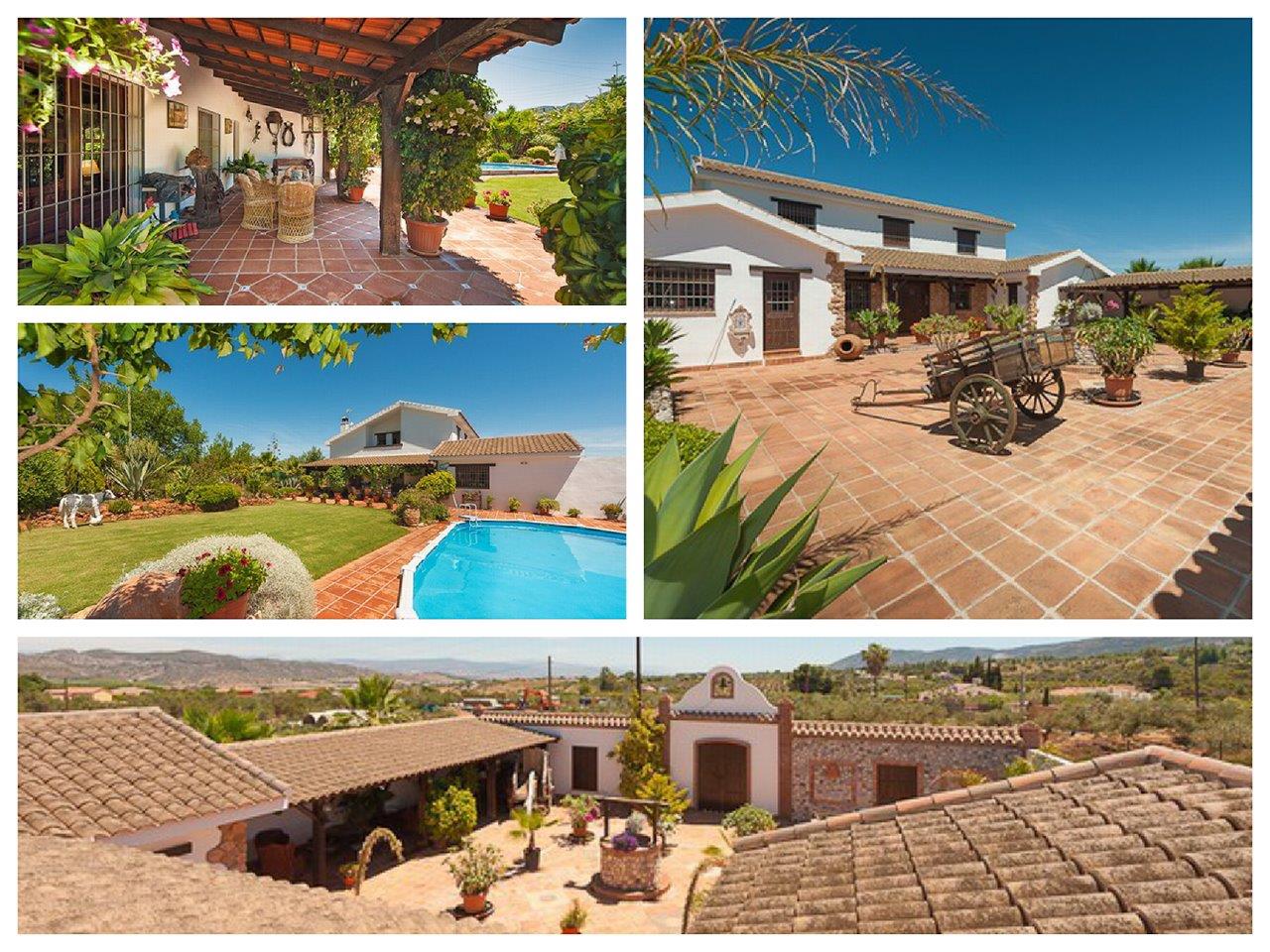 Unique cortijo for sale in Alhaurin el Grande OFFERS INVITED and RENT TO BUY can be discussed. The owners of this beautiful cortijo built their home 10 years ago for 1.2 million euros. Now they need to sell, which is why the asking price has just been reduced from 825,000 euros to a mere 570,000 euros. The cortijo has been built to the highest possible standards and is even earthquake proof. There's a well for cheap irrigation of the breathtakingly beautiful landscaped gardens. There's a pond. There's a sauna. There's plenty of space for more rooms or bathrooms. There's a 300 m2 Andalusian style courtyard / patio waiting for you to throw parties. There´s a possibility to close off the roofed side of the patio. There's a covered terrace in the garden. There´s…simply too much to mention. This cortijo is a once in a lifetime opportunity to purchase a beautiful top quality country home in a quiet, spacious and peaceful setting yet 5 minutes away from the town centre of Alhaurin el Grande – and less than a 30 minute drive to the airport, booming Malaga, fashionable Marbella and the sunny beaches of the Costa del Sol. There is a First Occupancy Licence, so the paperwork can be dealt with quickly. A unique opportunity! Curious? Fill in the form below for more information or to make an appointment for a viewing. 
Watch the video or click the pictures below to enlarge them
Details of the cortijo for sale in Alhaurin el Grande
Location: Alhaurin el Grande
Property type: detached villa / cortijo with 4 very large bedrooms (one of 46 m2 and one of 30 m2), 2 bathrooms and a separate toilet
Size: 320 m2 (villa / cortijo) and 4,800 m2 (plot)
Status: sold
Features: fireplace, sauna, underfloor heating, flat fenced plot of 2,000 m2 with fruit trees (oranges, lemons, avocados, tangerines and figs), pond, landscaped gardens with swimming pool, full cavity insulation, extra thick walls (saving costs as there is no need for air-conditioning)
Reference number: MP1084
Do you have any questions about this cortijo in Alhaurin el Grande? Then don´t hesitate to contact us. Fill in the form below and we´ll be glad to answer your questions or arrange a viewing. You can of course also call or e-mail us.
Are you looking for another property? Then use our database of 20,000 properties (fill in your search criteria at the top of this page) or fill in this form.