Villa for sale in Alhaurin el Grande (with guesthouse)
Asking price:
€ 695
,000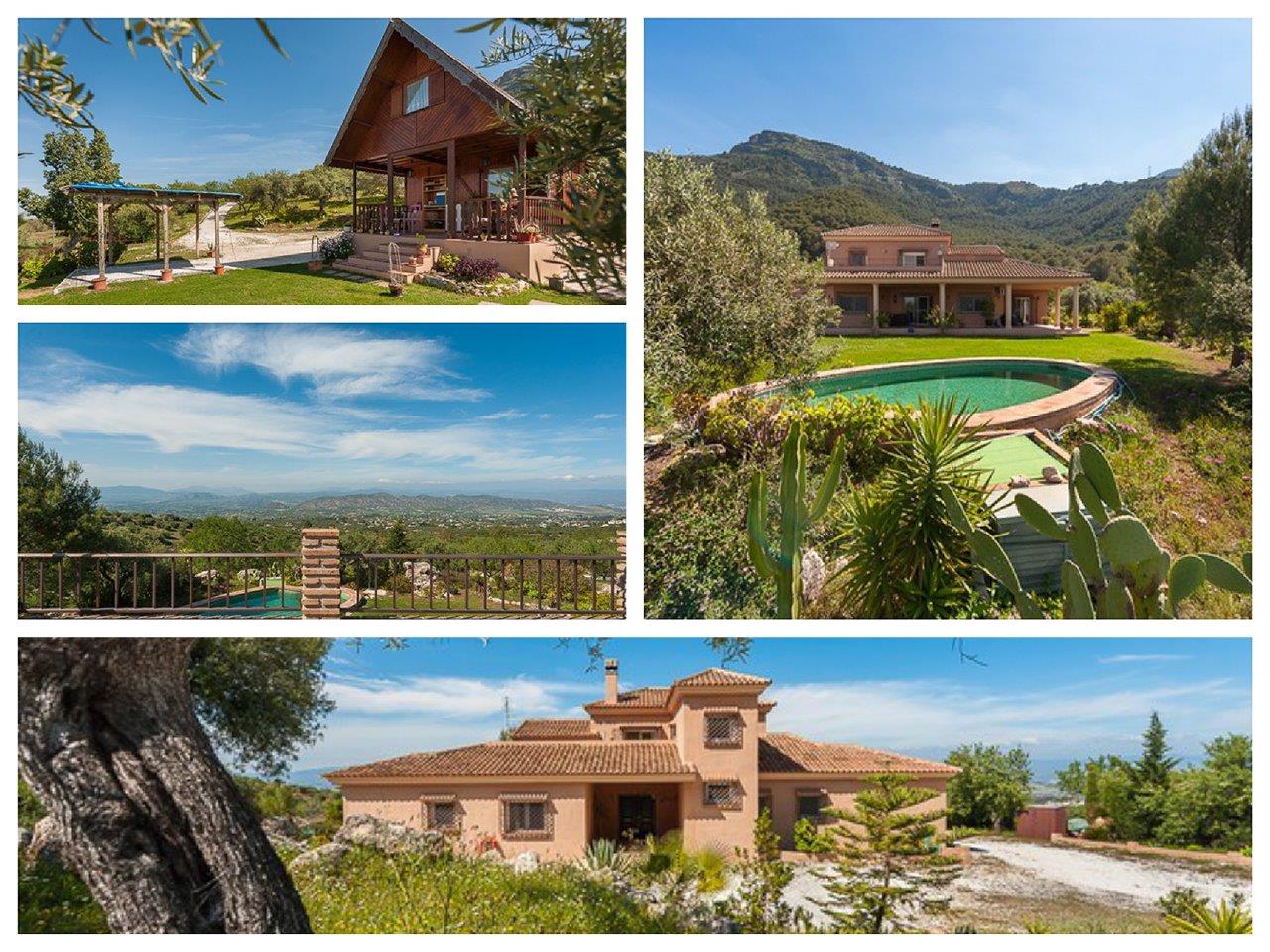 Villa for sale in Alhaurin el Grande (with separate guesthouse).  This beautiful and spacious villa is located in the outskirts of Alhaurin el Grande on a unique spot which combines it all: breathtaking panoramic views (of the valley all the way to Malaga and the sea), nature (with direct access to the forest which is perfect for hiking, horseback riding and mountain biking) and all amenities close by. The town centres of both Alhaurin el Grande and Alhaurin de la Torre are only a 5 to 10 minute drive away! The villa is set in a fully fenced plot of almost 15,000 m2 with a private swimming pool. It offers a large living/dining room with double height ceilings, 4 bedrooms with ensuite bathrooms and a spacious fully fitted kitchen. One bedroom is situated upstairs and the other three can be found downstairs. These three can easily be closed off from the living area by a door, meaning the villa is perfectly suitable for a bed & breakfast – especially because you will also have a 2 bedroom guesthouse on the plot and a large garage which could be converted into a guest accommodation. The villa is completely private, not overlooked by neighbours and has very easy access. Malaga, the beach and the airport can all be reached within a 30 minute drive. Curious? Fill in the form below for more information or to make an appointment for a viewing.
Click the pictures below to enlarge them
Details of the villa for sale in Alhaurin el Grande
Location: Alhaurin el Grande
Property type: villa with 4 bedrooms and 4 bathrooms & guesthouse with 2 bedrooms and 1 bathroom
Size: 286 m2 (villa) – 119 m2 (terraces) – 14,140 m2 (plot)
Construction year: 1990
Features: air conditioning, central heating, fireplace, alarm system, safety glass, marble floors, 50 m2 garage, roof terrace, separate wooden guesthouse (living room, kitchen, bathroom, 2 bedrooms and terrace), large garden with private swimming pool, fully fenced plot, own well, water tank, automatic gate, storage room, direct access to the forest
Annual costs: property tax € 921 – garbage disposal € 76
Energy certificate: pending
Status: for sale
Reference number: MP1146
Questions, viewing or another property?
Do you have any questions about this villa for sale in Alhaurin el Grande? Then don´t hesitate to contact us. Fill in the form below and we´ll be glad to answer your questions or arrange a viewing. You can of course also call or e-mail us.
Are you looking for another property? Then use our database of 20,000 properties (fill in your search criteria at the top of this page) or fill in this search form.