Villa for sale in Estepona Puerta de los Reales
Asking price: € 980,000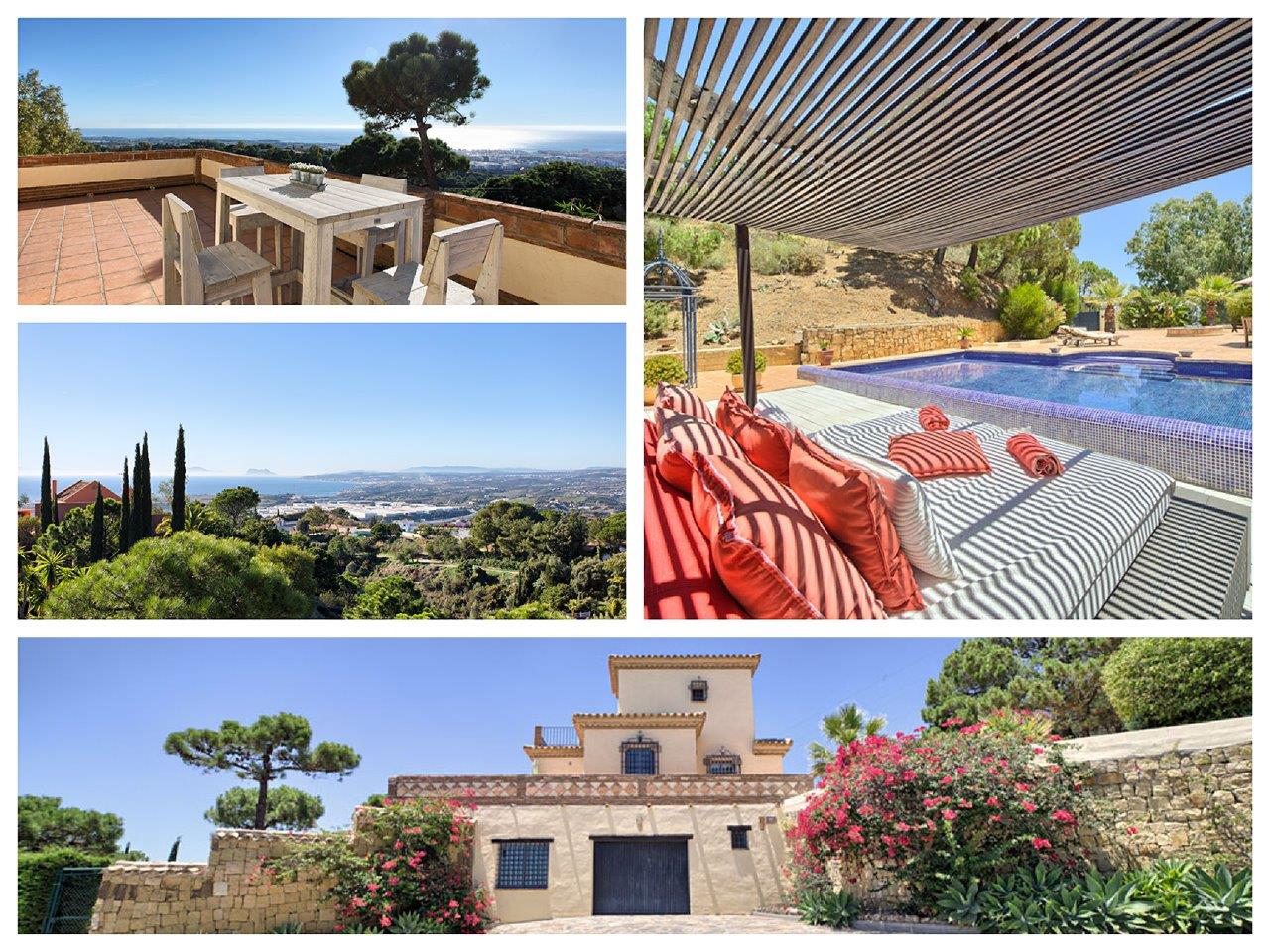 Beautiful villa for sale in Estepona Puerta de los Reales with breath taking views. If you like privacy, space and peace and quiet but don't want to live in the middle of nowhere, then this could very well be your house! It's situated in Puerta de los Reales, which is an area of Estepona high up the mountain. As you are 166 meters above sea level you will have breathtakingly beautiful panoramic 180 degrees sea views. And the best thing is, you look down on Estepona which is just 3 kilometres away. So if you want to go to the beach or forgot something in the supermarket it will only take you minutes to get there. And the villa itself has plenty to offer as well! The main floor consists of a spacious living area with fireplace, fully fitted kitchen (with quality Siemens appliances), two bedrooms and one bathroom. Upstairs you will find the master bedroom with ensuite bathroom. And downstairs there's a very large 100 m2 room which is now used as an entertainment area / second living area but this could very well be used to create more rooms if needed. There's a garage for 2 cars and there's a beautiful outside area with mature gardens, a BBQ and lounge area and of course a private swimming pool. We think the rustic style of the villa combined with the modern interior ánd the combination of privacy and space with busy Estepona at your doorstep makes this villa something special and different. Come and have a look so you can decide for yourself. Get in touch with us today to make an appointment for a viewing!
Click the pictures below to enlarge them
Details of the villa for sale in Estepona Puerta de los Reales
Location: Estepona – Puerta de los Reales
Property type: detached villa with 4 bedrooms, 3 bathrooms and a private  swimming pool
Size: 309 m2 (villa) – 250 m2 (terraces) – 5,460 m2 (plot)
Features: private swimming pool, garage for 2 cars, alarm system, BBQ area, fireplace, Siemens kitchen appliances, pre-installation for central heating, 100 m2 entertainment area (or bedroom) downstairs
Year of construction: 1999 (renovated in 2015)
Annual costs: property tax € 801  – garbage collection € 115
Energy certificate: E
Status: for sale
Reference number: MP1097
Do you have any questions about this villa in Estepona / Puerta de los Reales? Then don´t hesitate to contact us. Fill in the form below and we´ll be glad to answer your questions or arrange a viewing. You can of course also call or e-mail us. Are you looking for another property? Then use our database of 20,000 properties (fill in your search criteria at the top of this page) or fill in this form.