Spacious villa in Marbella (Los Naranjos, Nueva Andalucia)
Off market – please use the database above to look for alternatives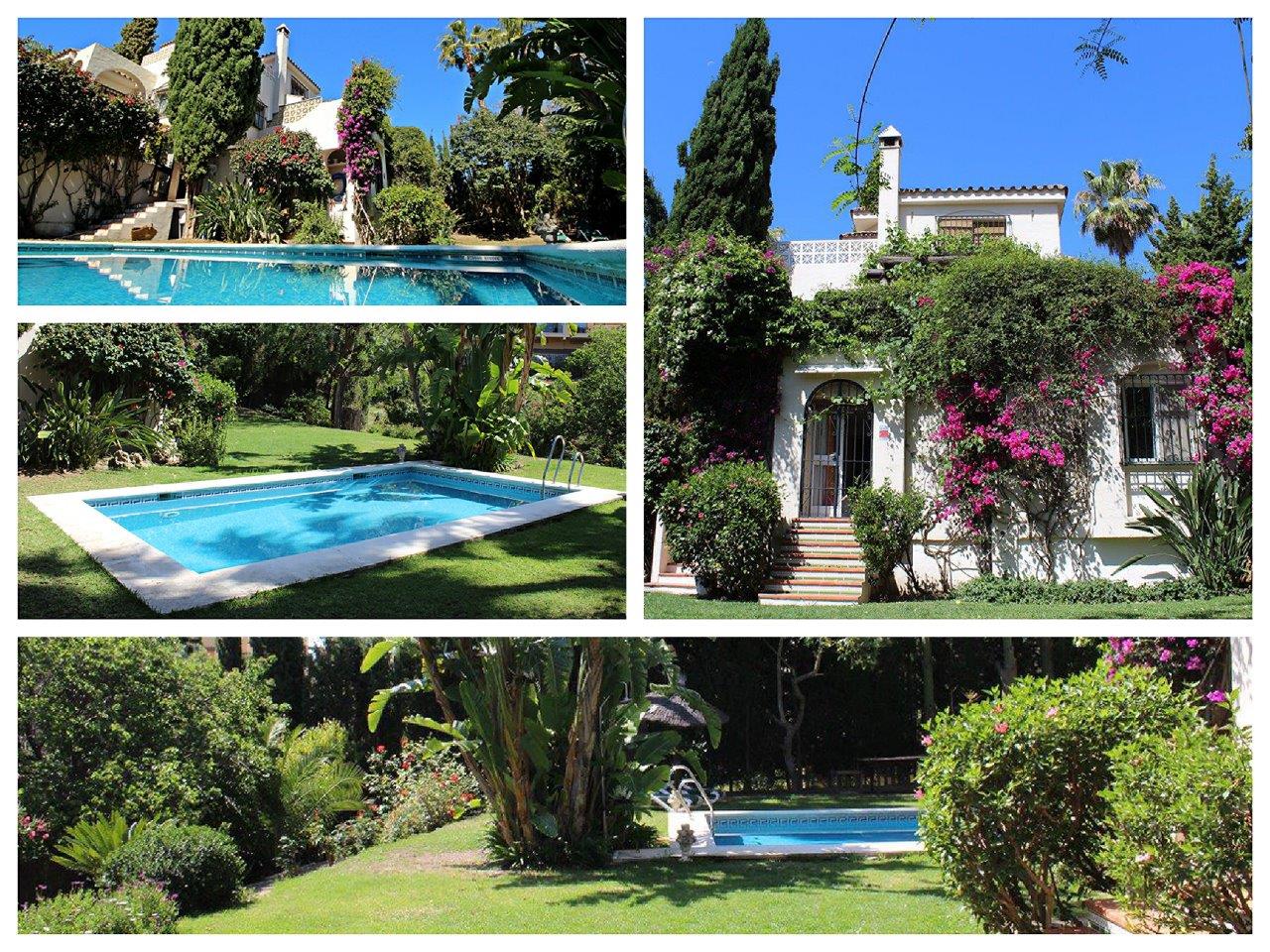 Charming and spacious villa for sale in Marbella. 'Charming, warm and stylish' is the best way to describe this wonderful Andalucian type detached villa in the sought after area of Los Naranjos in Marbella (Nueva Andalucia). It's located in a very private cul-de-sac on a secluded gated complex – just minutes away from the famous golf courses of Aloha, Las Brisas and Los Naranjos. The world renowned Aloha College can also be found around the corner. When standing in front of the villa looks can be deceiving. It's intriguing how no less than 240 square meters (5 bedrooms and 3 bathrooms!) can be found behind the facade. But it is in fact possible. And not only that. There's a large kitchen with dining area, a big living room with access to a secluded terrace, plenty of storage space, a garage with room for two cars, a beautiful garden with private swimming pool and plenty more to enjoy. Very smart is the fact that the house consist of three levels with bedrooms and ensuite bathrooms on every level. That way guests (or your children) can have their own floor. This villa breaths a true Andalucian style and offers space, peace and tranquillity with all the facilities and possibilities of cosmopolitan Marbella right at your doorstep. Come see for yourself!
Details of the villa in Marbella
Location: Marbella (Los Naranjos, Nueva Andalucia)
Property type: villa on 3 levels with 5 bedrooms and 3 bathrooms in a gated complex
Size: 240 m2 (villa) and 901 m2 (plot)
Status: off market
Features: private swimming pool, garage for two cars, airconditioning, fireplace
Reference number: MP1081
Click the pictures below to enlarge them
If you have any questions about this villa in Marbella don´t hesitate to contact us. Fill in the form below and we´ll be glad to answer your questions or arrange a viewing. You can of course also call or e-mail us.