Golden Visa in Spain: 10 tips
Golden Visa is the popular name for the 'Ley de Apoyo a los Emprendedores y su Internacionalización' (the law to support entrepreneurs and their internationalization). The Golden Visa was introduced in Spain to attract entrepreneurs from outside the European Union (for example from Russia, China, Kenya and India) and to encourage foreign investments in Spanish real estate. How can you get a Golden Visa in Spain? And what should you know about a Golden Visa in Spain? 10 tips.
Conditions for a Golden Visa in Spain
With a Golden Visa you receive a residence permit that allows you and your immediate family (spouse and children) to travel in all 26 Schengen countries of the European Union, so not just in Spain. The only conditions for a Golden Visa in Spain are that you buy property for a minimum of € 500,000, are over 18 years old, don't have a criminal record and do have health insurance and sufficient financial resources. In July 2015, the Spanish government has introduced an amendment to the law to make it easier to obtain a residence permit.
Tip 1. One yearly visit to Spain is enough to keep your residence permit. If you as the property owner are in Spain for more than 183 days a year you must pay tax on a percentage of your income.
Tip 2. It is important to keep track of the latest information because the government does change the rules every now and then.
Tip 3. It is therefore important to contact an expert lawyer.
Tip 4. You do not have to buy property for private use, you can also buy commercial real estate.
Tip 5. You can also buy several homes which each cost less than € 500,000 as long as the total investment is € 500,000 or more.
Tip 6. You don't need to be present to sign all the paperwork after you have bought property, this can be done via a power of attorney.
Tip 7. If you are present yourself, you must be legally present in Spain – for example on a tourist visa.
Tip 8. Prefer not to buy property? For a Golden Visa in Spain you can also invest two million euros in government debt or one million euros in a Spanish company.
Tip 9. The Golden Visa can be converted into a permanent residence after five years. Earlier you had to apply for a new residence permit after two years and then again after every five years.
Tip 10. The origin of the invested money may need to be verified for instance by showing copies of tax returns.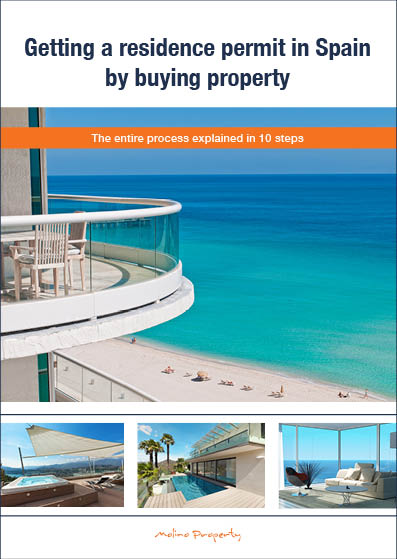 In association with one of the biggest law firms in the south of Spain we have written a
digital brochure
about the costs, benefits, requirements and process of obtaining the residence permit. Wish to receive it? Then fill in your name and e-mail address and click 'send'. [contact-form-7 404 "Not Found"]
We can help you apply for a Golden Visa in Spain
We can put you in contact with an expert lawyer who can tell you everything you need to know about a Golden Visa in Spain. First want to look for property? Then use our database or fill in our search form. We gladly assist!