What is a Spanish golden visa?
The Spanish golden visa is a popular name for the 'Ley de Apoyo a los Emprendedores y su Internacionalización' (Law in support of Entrepreneurs and their Internationalisation) which Spain introduced in 2013. It was introduced to attract property investors from outside the European Union by offering them residence permits in return for an investment in Spanish real estate. In July 2015 the government passed an amendment to the law to make obtaining the residence permit easier.
What is a Spanish golden visa?
With a golden visa investors from outside the European Union can get a residence permit. With this permit they can work in Spain and travel visa-free in the Schengen area of the European Union. One application can cover residence permits for immediate family members (spouse and children) if required. There are however a few conditions for people wanting to obtain a Spanish golden visa, such as:
Over 18 years of age
No criminal record
Person needs to have a health insurance policy
And sufficient financial resources
Property to apply for a golden visa
Apart from these conditions, the first step to get a Spanish golden visa is to buy property worth € 500,000 or more in Spain and sign the title deeds before a notary. The investment value that counts is the purchase price recorded on the deeds and the property can be commercial property, residential property or land. Even several properties costing less than € 500,000 each is possible, so long as their combined value is € 500,000 or more. The law places no restrictions on legal property use, which means it can be rented out. The purchase may be done in person or through a power of attorney. If the purchase is made in person, this person needs be in Spain legally – for instance under a tourist visa.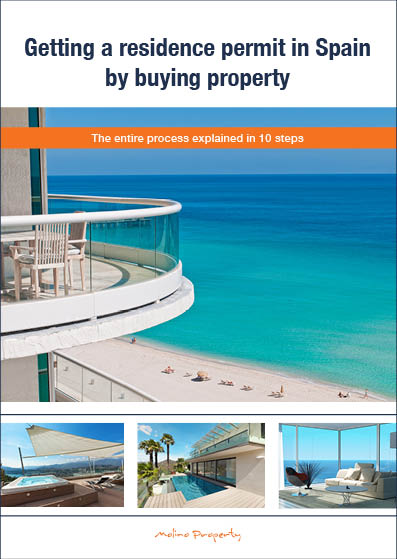 In association with one of the biggest law firms in the south of Spain we have written a
digital brochure
about the costs, benefits, requirements and process of obtaining the residence permit. Wish to receive it? Then fill in your name and e-mail address and click 'send'. [contact-form-7 404 "Not Found"]
How long is a Spanish golden visa valid?
Once the property has been acquired, it takes about 20 working days to obtain a residence permit. The residence permit then lasts 2 years and must be renewed for unlimited additional 5 years periods as long as the investment is still in place.